Publication date: 29th August 2013
Paperback edition: 252 pages
Source: Kindle
Rating: 5 stars
Synopsis:
How far would you go to find yourself?

That's the question that's been haunting Olivia Owens for years.

All Olivia has ever wanted to do is live and make mistakes, but her preacher father has made that impossible. She believes that her years at college will be her ticket into the real world and her chance to be wild and spontaneous.

But she's never been able to do it on her own.

At the start of her sophomore year, she only has four things crossed off her Live List, but that's all about to change thanks to a chance encounter with Trace Wentworth. She's about to learn that there's more to this reformed bad boy than just his looks and panty dropping smile.

Trace can't explain what it is that draws him to Olivia.

All he knows is that he wants to get to know the girl with the sad smile but sparkle in her eyes.

When she tells him about her list, he knows that this is his chance to get to know Olivia Owens. Trace is determined to show Olivia that she can do all the things she's ever wanted to do. So, he begins to help her cross things off her list, even the more outlandish requests.

What happens along the way is more than what Olivia or Trace ever expected.

Love, laughs, and a list.

That's the name of the game when you're Finding Olivia.
I cannot believe this book was my first book by Micalea Smeltzer! I had heard of her before I read this book, but I'd never had the chance to read any of her books! I will definitely be putting them to the top of my TBR list now! This book was absolutely amazing! I knew I was going to love it as soon as I started reading the first page! The synopsis pulled me right in as it sounds quite light and fluffy, but it tells you that the book also has a bit of a dark side as well! Finding Olivia was a cute, funny story about two characters falling in love though! The plot was so cute in some scenes and then so serious in others! You didn't really know what kind of scene you were going to get! It flowed perfectly though and I just couldn't put it down until I'd finished it! It completely blew me away! I loved the whole concept of the plot with the main character having a list and trying to cross off everything on the list, but maybe needing some persuading along the way lol! I haven't read a book quite like this one and I completely adored it!
The characters were also amazing! Olivia was the main character and she was so cute! I knew I was going to love her as soon as she started talking! I also loved how nervous she was with Trace and how he brought her out of her shell! Olivia was quite an easy character for me to connect with! The impression I got of her was that she was a friendly, but timid person who always saw the good in people! I just completely loved her! I wanted to hug her and not let her go! She was amazing and so strong! Trace was the love interest of Olivia and he was so freaking hot! From the moment he was introduced I knew he was perfect for Olivia! He was so adorable with her and he helped her so much! I completely adored him! Even though he had been through a lot he was determined to show Olivia how to live again and that made me love him even more! It also made me admire him as well! The other characters in this book all brought so much to the story! Most of them were amazing and huge supports to both Olivia and Trace! I
know that there's going to be another book to this one, but I also see potential for a book with maybe different characters from this book in it! I will be first in line to buy Trace and Olivia's next book though! The cover for this book is unbelievably stunning! I love it and the models on the front represent Olivia and Trace perfectly! Big thank you to Micalea for an ARC of Finding Olivia and to Stephanie's Book Reports for having me on the Blog Tour!

Check it out on
Goodreads!
Buy it from Amazon:
http://www.amazon.com/Finding-Olivia-Trace-ebook/dp/B00EUC80RE/ref=sr_1_10_title_0_main?s=books&ie=UTF8&qid=1378289069&sr=1-10
My song for Finding Olivia!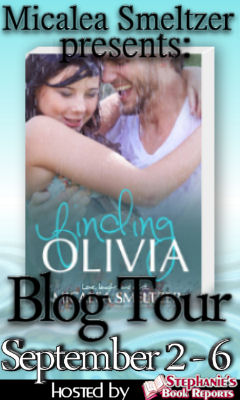 Micalea Smeltzer is an author from Virginia. Her name is pronounced Muh-call-e-uh. She is permanently glued to her computer, where she constantly writes. She has to listen to music when she writes and has a playlist for every book she's ever started. When she's not writing, she can be found reading a book or playing with her three dogs.