Publication date: 24th February 2014
Paperback edition: -
Source: Kindle
Rating: 5 stars
Synopsis: Knox Bauer's life has unraveled to the point of no return. Fighting to fill the emptiness inside himself, he seeks solace in unfamiliar beds with unfamiliar women. As guardian to his three younger brothers, he can't seem to do a thing right. But this can't go on...they look up to him in every way and all he's done lately is prove how messed up he really is. Needing a change, he attends a local Sex Addicts Anonymous meeting, where he finds himself tempted by the alluring instructor, McKenna.
Twenty-one year old McKenna is trying to make amends. After losing her parents in a horrific accident, she knows if she can just be good enough, maybe she can forgive herself for what happened. With her newly acquired degree in counseling, she begins leading a sex addicts group where she meets the troubled Knox and her life takes on complications she never bargained for. She doesn't have time for a bad boy who only wants to take her to bed, even if her body disagrees. The fixer in her wants to help, but trusting Knox's true motivations might take more courage than she has.
I'll be honest and say that I wasn't sure if I was going to fall in love with this book as much as I did, but I freaking loved it! It had the right amount of sexual tension and the right amount of plot development to keep me desperate to read on! I also loved that it was short and I got through it in one sitting because I honesty don't think I could have put it down if I had tried lol! I really think that I should call this book a novella, but I'm not sure so I'm just going to keep calling it a book lol! The plot of this book was so freaking hot! I just loved the whole idea of it too! The plot started straight away and kept me so hooked on it! It also developed so much as well for the book being quite short! The plot sucked me in right from the first page and left me begging for more! The plot was about two character who had both been through a lot try and help each other move on and find out what they really want in life and how too be happy! I just adored the plot! I can't wait to read more of it in the next book and see what's going to happen next!
The characters were amazing! Knox was the main male character and he was so freaking hot! He was also an amazing character and I loved how much he cared for his brothers and I could see that he'd do anything to protect them! Knox was said to be a sex addict in this book and there are times where he sort of started talking about his addiction and giving his love interest more insight into the reason behind it, and he did reveal a lot, but he was still a bit closed off as well! I hope we find out all his secrets in the next book in this series! I could also see that Knox was a dominant character, but we didn't really see a lot of his dominance in this book, so I hope we do in the next book! Knox did blow me away though and there were a few pretty hot scenes involving him in this book! And I mean hot scenes ;)
McKenna was the main female character and I just loved her! She was such a sweet person and she was always doing something for someone or helping with charity things or helping out at a homeless shelter! I felt so sorry for McKenna when I found out why she did all these things! She lost her parents and she didn't want to just sit about because all she did was think about them, so she did good in the world instead! I thought that was such a sweet thing! I connected really well with McKenna as well and I loved that she was calm with Knox and she waited for him to start opening up to her! I
also loved that this book was written from both Knox and McKenna's point of view! It was definitely essential for the plot and I loved getting to see their feelings develop for each other through both of their eyes! I cannot wait to read the next book in this series! This book left it at ending where I had my mouth hanging open! I kept flicking through my Kindle for more pages lol! I can't wait to see what's going to happen next! The cover for this book is stunning! I completely love it and the models on the front definitely suit the characters of Knox and McKenna! Big thank you to Kendall for an ARC of When I Break and to Shh Moms Reading for having me on the Blog Tour!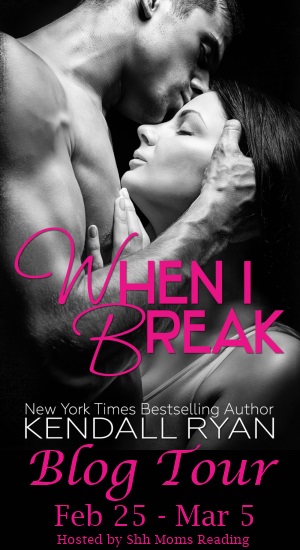 Kendall Ryan is the New York Times and USA Today bestselling author of the contemporary romance novels, HARD TO LOVE, THE IMPACT OF YOU, RESISTING HER and WORKING IT.

She's a sassy, yet polite Midwestern girl with a deep love of books, and a slight addiction to lipgloss! She lives in Minneapolis with an adorable husband, two naughty puppies, and a brand new son.

She enjoys being naughty, reading, and anything girly.
Giveaway!