Publication date: 17th March 2014
Paperback edition: 337 pages
Source: Kindle
Rating: 4 stars
Synopsis: After a car accident killed her parents when she was a child, Bronagh Murphy chose to box herself off from people in an effort to keep herself from future hurt. If she doesn't befriend people, talk to them or acknowledge them in any way they leave her alone just like she wants.
When Dominic Slater enters her life, ignoring him is all she has to do to get his attention. Dominic is used to attention, and when he and his brothers move to Dublin, Ireland for family business, he gets nothing but attention. Attention from everyone except the beautiful brunette with a sharp tongue.
Dominic wants Bronagh and the only way he can get to her, is by dragging her from the boxed off corner she has herself trapped in the only way he knows how...by force.
Dominic wants her, and what Dominic wants, Dominic gets.
The cover for this book is what first attracted me to it! It's so hot and I really wanted to read the story behind it! I then read the synopsis and it really intrigued me and made me want to read the book more! I then skimmed through a few reviews on Goodreads and I wasn't sure if this book was going to be for me, so I put it off until the last minute! I kinda regret that now lol because this book was really good! I enjoyed it more than I was expecting too! The plot of Dominic was actually really good! I loved its development and there was a lot that made me want to read on! Especially the growing relationship between the two main characters! I do have to say though that there was a lot of swearing in this book, most of which I found unnecessary! I don't mind swearing in books, but just nowhere near as much as was in this book! That's why I took it down a star! Another reason was the way the characters were in school! My teachers would never have let any of us act or speak like that to each other while in the classroom! I enjoyed the plot though and I loved where it went and how it developed!
The characters were great, but I had a few problems with the main character! The main character was Bronagh and there were times in this book where I just wanted to punch her! She swore a lot, overreacted and was just plain mean at times! She could have saved herself so many times in this book by not retaliating, but she did! I sort of understood why Bronagh was like this, but I didn't fully understand! There was quite a lot of this book where I loved Bronagh though! She redeemed herself with me a lot too by standing up for people and I did love that she fought her own corner!
Dominic was the main male character and he was so deliciously hot! He was a bit of an ass at the beginning of this book, but then he started to develop feelings for Bronagh and he started becoming less of an ass and more protective of her! Dominic really intrigued me in this book, because I wasn't sure what he was going to do next or how he was going to react! I loved how protective he was of Bronagh and I could see that he had real feelings for her! I
was kinda expecting this book to be written from both Bronagh and Dominic's point of views after I read the synopsis, but it was only written from Bronagh's! I would have loved to have been able to go inside Dominic's head, but I enjoyed this book being written from only Bronagh's point of view!Even though I had a few problems with this book, I will definitely be checking out the other books in the series when they release! I'm excited to read them! The next books are also going to be about Dominic's brothers I believe, and every single one of the brothers intrigued me, so I can't wait to read their stories! As I said, the cover for this book is so hot! I mean, who doesn't want to read a book with that body on it, right? ;) Big thank you to L.A. Casey for a copy of Dominic and to Just My Bucking Book Tours for having me on the Blog Tour!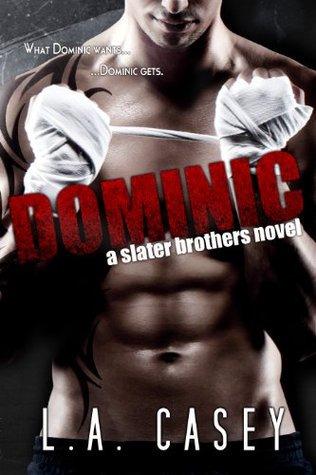 Author bio:

L.A. Casey was born, raised and currently resides in Dublin, Ireland. She is a twenty two year old stay at home mother to an almost two year old German Shepherd named Storm and of course, her four and half year old (the half is apparently vital) beautiful little hellion/angel depending on the hour of the day.

Her first novel, Dominic, was released on March 17th, 2014, and on March 21st, 2014, it became an international Amazon bestseller.