Publication date: 20th November 2014
Paperback edition: -
Source: Kindle
Rating: 5 stars
Synopsis: Separated from Finn, captive of the Order, Nurrin has no hope left. But she has survived twenty years of zombies--and she has the unshakable faith that Finn will find her.

But Finn is a long way away. The Order's influence runs deeper than was ever suspected, and politics are shifting--and zombies may not be the most dangerous thing she's facing.

Finn always thought the war stripped him of all he had to lose. But with Nurrin missing and doors closing in his face, he realizes there is always more for the world to take--and he will drag the remains of civilization down with him before he gives up on the only promise that matters.
I was seriously excited to read this book after the last book's ending! It was quite the cliff-hanger and I couldn't wait to see how everything was going to play out! I signed up for the Blog Tour when I got an email about it, and was super lucky to get on it! I squealed when I got my ARC too lol! I freaking loved this book! It was definitely worth the wait and I couldn't put it down once I started it! I was also drawn right back into the characters world! The plot was again full of action, suspense, and a whole load of romance! It was continued on brilliantly from the last book and it held me attention all the way though! It was just brilliant! The only thing I will say about the plot is that there was a particular scene where the main male character sort of rescues the main female character, and because this book was written from dual point of view, it would have been interesting to have taken more of the main male character's journey to get to the female character! I felt it was a bit rushed! The plot was amazing though, and I thoroughly enjoyed it! I loved the twist and turns too! They added a lot to the plot!
The characters were again amazing! Nurrin was again the main female character and she was in such a dangerous situation in this book! I mean, the world she lives in is a dangerous situation all on its own, but she was in a even more dangerous situation! Nurrin handed it all the best she could and she was always trying to protect the people she loved! Nurrin has also changed quite a lot since the first book, but she's become a stronger person, which is what she has had to become because of the world she lives in! She's become more kick-ass too! I still loved her in this book, and there were some twists that made my heart go out to her too! I wasn't expecting her to have went through something so horrible!
Finn was again the main male character and he was even hotter in this book! I didn't think it was possible for him to get any hotter lol! He was also seriously protective of Nurrin in this book, and he showed how far he would go to protect her and keep her safe! I wasn't expecting him to go as far as he did, but I could understand why he did as his feelings for Nurrin outweighed everything! Finn was again such a straight talker and I liked that we got to learn a little bit more about his background! I loved that this book was written from both Nurrin and Finn's point of views! It kinda had to be, and I really enjoyed that it was!
I actually thought that this book was going to be the last book in this series for some reason, so I was when I got to the end of the book and it was left on another cliff-hanger, I got really excited because that means there's probably going to be another book lol! I can't wait to read it and see where the story's going to go, especially after that ending! The cover for this book is just perfect for it! It suits the other covers in the series perfectly and suits the book too! Big thank you to Nazarea for an ARC of The Future Without Hope and to Inkslinger PR for having me on the Blog Tour!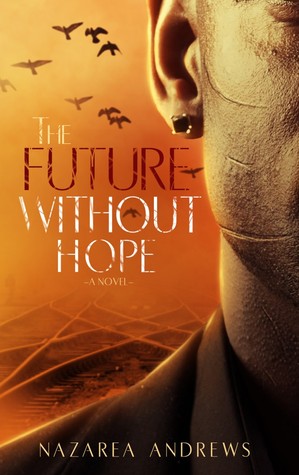 Nazarea Andrews is an avid reader and tends to write the stories she wants to read. She loves chocolate and coffee almost as much as she loves books, but not quite as much as she loves her kids. She is the author of the University of Branton series, Neverland Found series, and Edge of the Falls.

She lives in south Georgia with her husband, daughters, and overgrown dog. You can follow her on Facebook and Twitter.