Publication date: 19th February 2015
Paperback edition: 416 pages
Source: Hardback
Rating: 4 stars
Synopsis
:
There's a thin line between hero worship and dangerous obsession . . . the explosive new Eve Dallas and Roarke thriller
A crisp winter morning in New York. In a luxury apartment, the body of a woman lies stretched out on a huge bed. On the wall above, the killer has left a message in bold black ink: FOR LIEUTENANT EVE DALLAS, WITH GREAT ADMIRATION AND UNDERSTANDING.

Eve Dallas is used to unwanted attention. Famous for her high-profile cases and her marriage to billionaire businessman Roarke, she has learned to deal with intense public scrutiny and media gossip. But now Eve has become the object of a singular and deadly obsession. She has an 'admirer', who just can't stop thinking about her. Who is convinced they have a special bond. Who is planning to kill for her - again and again...

With time against her, Eve is forced to play a delicate - and dangerous - psychological dance. Because the killer is desperate for something Eve can never provide - approval. And once that becomes clear, Eve knows her own life will be at risk - along with those she cares about the most.
This genre of book isn't normally one I would pick up on my own, but I got an email from the UK publisher about reviewing the book and being on the UK Blog Tour for it, so I thought about it for a few hours and then said yes! I also found out that this book was the fortieth book in the series lol, which put me off reading it, but the publisher told me that it was a good place to start the series off, and I was pretty intrigued by the synopsis, so I was looking forward to reading it and going outside my comfort zone a bit! I enjoyed this book! It took me about five days to read and I had to force myself to want to continue reading when I would pick it up at the start, but then I would start to get really into it! It developed at a nice pace and was really good! There were also a few scenes in this book where characters and situations were brought up that appeared in past books, which confused me a little as I haven't read the other books, but I was sort of able to understand everything! The plot of this book was so mysterious! It kept me on my toes and really made me think! The reader also finds things out as the main character does, which added to the suspense and mystery!
The characters were great! Eve was the main character, and she was so calm and she kept her head straight in dangerous and icky situations! This really impressed me! I connected really well with Eve too! I wasn't expecting to connect with her as much as I did, but I really did! I could see her determination and fierceness as a cop, and she was a damn good one! I was told multiple times throughout this book by multiple characters how good of a cop she was lol! I could also understand the reasoning behind Eve becoming a cop, as this was touched briefly on in this book, and it made my heart go out to her! She was such a brave character and I loved her!
Roarke was the love interest and husband of Eve! I loved Roarke! He was such a sweetheart! He also helped Eve out so much with her case, and I could see that he really, really loved her! Roarke also wasn't in this book tons, but this book wasn't about Roarke's relationship with Eve and it was more about the mystery aspect! I loved the sexy scenes between Eve and Roarke though! They added so much to the book!
This book was written mainly from Eve's point of view, but there were a few scenes that were written from Roarke's point of view and also the killer's! This added a lot to the plot, and I'm really happy the author put these in! I'm not sure if I'm going to continue reading this series! I mean, I might read the next books that release after this one, but I'm not sure if I would go back and read the other thirty-nine books in the series lol! I would love to see where Eve's journey started though, as this book really made me want to go and find out! The UK cover for this book is brilliant! It suits the book so well and is very appealing! I definitely prefer it to the US cover too! Big thank you to Piatkus for sending me an early hardback copy of Obsession in Death and for having me on the UK Blog Tour!
Check it out on
Goodreads!
(Please click on the schedule to enlarge it!)
Nora Roberts is the number one New York Times bestseller of more than 200 novels. She published her first novel using the pseudonym J.D. Robb in 1995, with the In Death series, Robb has become one of the biggest thriller writers on earth, with each new novel reaching number one on bestseller charts over the world. With over 450 million copies of her books in print, she is indisputably one of the most celebrated and popular writers in the world.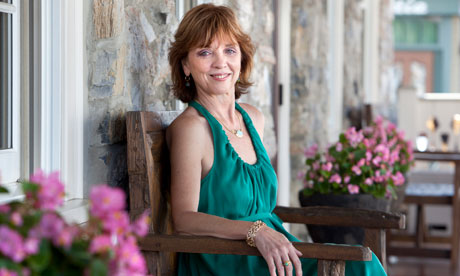 Website
Facebook
Goodreads