Publication date: 24th February 2015
Paperback edition: -
Source: Kindle
Rating: 4 stars
Synopsis: It's time for Kellan Kyle, the rockstar who captured our hearts in Thoughtless, to tell his side of the story.

The only place Kellan has ever felt at home is on stage. Gripping his guitar in a darkened bar, he can forget his painful past. These days his life revolves around his music and his band mates, and that's the way he likes it. And then one woman changes everything . . .

Kiera is the kind of girl Kellan has no business wanting - she's smart, sweet, and dating his best friend. Certain he could never be worthy of her love, he hides his growing attraction . . . until Kiera's own tormented heart hints that his feelings might not be one-sided. Now, no matter the consequences, Kellan is sure of one thing: he won't let Kiera go without a fight.
I'll start off by saying that I've only read the first book in this series, but when the UK publisher emailed me and asked me if I would like an ARC of this book, I couldn't resist saying yes! I also knew that this book was the first book written from the male characters point of view, so I knew that I was going to be able to understand it and be able to follow it! I also loved that this book was written from the male characters point of view! It gave me so much insight into why he acted the way he did, which was really interesting to find out! I also got really into this book and read it in a few days, even though it was quite a lengthy book! The plot was again amazing, but I did find that the cheating side still wound me up and I really tried to overlook it, but it actually started to annoy me more as the book progressed! I loved the romance and the bit of action near the end of the plot though! It added a lot to the plot! Overall, I enjoyed the plot, but I just found the whole cheating side hard to read again lol!
The characters were amazing! As I said, this book was the first book, Thoughtless, written from the main male character, Kellan's, point of view, so he was the main character! I connected so much with Kellan in this book! It really surprised me! This book showed me what he had been through in his childhood to make him the guy he was! He had such a rough and hard childhood, which made him insecure, but a tough guy! My heart went out to him! I loved Kellan though! He was seriously hot! I do have to admit though that Kellan pined after his love interest, Kiera, for near enough all of this book, which started to grate on me more as the book progressed, but apart from that, I loved the two of them as a couple and the chemistry was off the charts with them! Kellan was also super protective of Kiera, which I loved!
Kiera was the main female character in the first book, and seeing her through Kellan's eyes was so beautiful! I mean, Kellan really, really loved her, and I could see that he would do anything for her! I also really liked Kiera, even though she did cheat on her boyfriend with Kellan! I could understand to an extent why she cheated on him, but not fully! Kiera was still a very well written character, and she was really sweet and a bit of a vixen at times lol! She became more of a vixen as this book progressed, which I liked as she became more confident!
I'm definitely going to be reading the other two books in this series! I read the first book years ago and didn't feel like I wanted to read on because of the cheating side of the plot, but reading this book has made me want to find out what's next for Kellan and Kiera! I'll definitely be reading the rest of the series soon and I hope I enjoy them! The cover for this book is seriously hot! Like, seriously hot lol! I completely love it! I'm so happy the UK publisher didn't change the cover and that they kept it the same as the US one! Big thank you to Sphere for an ARC of Thoughtful!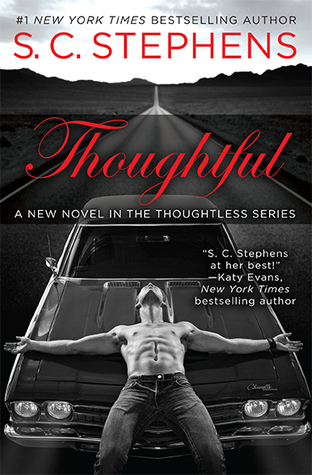 (Please click on the tour schedule to enlarge it!)
S.C. Stephens is a New York Times #1 bestselling author who spends her every free moment creating stories that are packed with emotion and heavy on romance. In addition to writing, she enjoys spending lazy afternoons in the sun reading, listening to music, watching movies, and spending time with her friends and family. She lives in Washington State with her two children.