Hey, guys! It's that time of year again where I share my favourite books of the year! So, here is my list with my top 15 books of 2015! There are quite a few more books that should be on this list lol, but I could only pick 15!
15.

Red Queen [Red Queen 01] by Victoria Aveyard

!
This is a world divided by blood – red or silver.

The poverty-stricken Reds are commoners, living in the shadow of the Silvers, elite warriors with god-like powers.

To Mare Barrow, a 17-year-old Red girl from the Stilts, it looks like nothing will ever change.

Then Mare finds herself working at the Silver palace, in the midst of those she hates the most. She quickly discovers that, despite her red blood, she possesses a deadly power of her own. One that threatens to destroy Silver control.
14.
Talon series by Julie Kagawa!
Talon [Talon 01]
'There are a dozen soldiers hiding in that maze. All hunting you. All looking to kill you.'

To the outside world Ember Hill is an ordinary girl, but Ember has a deadly secret. A dragon hiding in human form, she is destined to fight the shadowy Order of St. George, a powerful society of dragonslayers.

St. George soldier Garret is determined to kill Ember and her kind. Until her bravery makes him question all he's been taught about dragons.

Now a war is coming and Garret and Ember must choose their sides – fight to save their bond or fulfil their fate and destroy one another.
Check it out on
Goodreads!
Rogue [Talon 02]
Deserter. Traitor. Rogue.Ember Hill left the dragon organization Talon to take her chances with rebel dragon Cobalt and his crew of rogues. But Ember can't forget the sacrifice made for her by the human boy who could have killed her—Garret Xavier Sebastian, a soldier of the dragonslaying Order of St. George, the boy who saved her from a Talon assassin, knowing that by doing so, he'd signed his own death warrant.

Determined to save Garret from execution, Ember must convince Cobalt to help her break into the Order's headquarters. With assassins after them and Ember's own brother helping Talon with the hunt, the rogues find an unexpected ally in Garret and a new perspective on the underground battle between Talon and St. George.

A reckoning is brewing and the secrets hidden by both sides are shocking and deadly. Soon Ember must decide: Should she retreat to fight another day…or start an all-out war?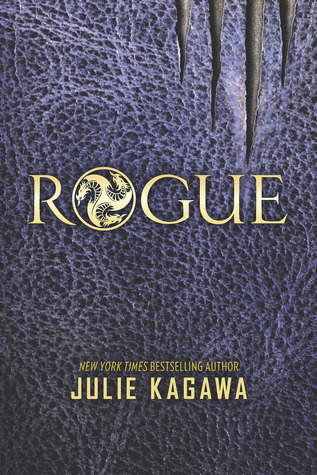 13. Royal Shifters series by L.P. Dover

!
Turn of the Moon [Royal Shifters 01]
One girl. Two wolves. Promised to one. Destined for the other.

To escape the cruel, overbearing, Kade, the Yukon Pack alpha she's been promised to, Bailey Whitehill flees her home in search of a new life, one of freedom where she can make her own choices. However, Kade will stop at nothing to make her his and begins the hunt.

As Bailey starts her new life, everything she's known to be true, is not. Time is of the essence and choices have to be made or consequences suffered. Not only does Bailey fear Kade, but another danger lurks deep in the recesses of the forest. Unbeknownst to her, that danger is what she's been searching for all along. At the turn of the moon, her fate hangs in the balance . . . and it's up to her to make the right choice.
Check it out on
Goodreads!
Resisting the Moon [Royal Shifters 02]
The past was pain.
The present unclear.

For Tyla Rand, her future couldn't be bleaker. Death follows her everywhere, especially to those she loves. Being a member of the royal pack, she believes her time of happiness will come. That is, until wolves from her old pack show up missing. Her mission is to find them, but she won't be going alone.

Sebastian Lyall, a true born royal and the one man Tyla loathes, has offered to help in her quest. Their journey not only brings out their true desires, but attracts the attention of another, someone from Tyla's past. However, nothing is as it seems. Death is not done with her and now he wants her to pay. He won't be satisfied until he's taken everything away . . . including those she loves.
Check it out on Goodreads!
12. Dangerous Temptations by Brooke Cumberland!
One night was all it took...
One night to ruin everything I thought I knew.

From the outside, I had the perfect lifestyle.
Wealthy fiancé, blossoming career, amazing friends.

I wasn't looking to get married yet, but when William—"Manhattan's royalty"—charmed his way into my life, I couldn't deny the security and comfort that overcame me.

To society, I was the girl only after his money. I was the party-goer who managed to seduce a man twice my age to have the lifestyle some could only dream of. I was every magazine's cliché of what a gold-digging whore was.

I wanted to prove them wrong—that our love was real and that I wasn't that girl.

But then everything changed.
One wrong decision. One unfaithful night. One haunting reality.
Perhaps they were right.
The media didn't see it coming... and neither did I.

11. Darkness series by J.L. Drake!
Darkness Lurks [Darkness 01]
Emily McPhee has struggled to overcome her father's death...

It's not easy, but Emily finally has the life she wants. She's an A student at Orange University and has a comfortable home and a great circle of friends. She's also in love with handsome Orange PD officer Seth Connors. He doesn't seem to return her feelings, though, so she tells herself his friendship is enough.

Jimmy Lasko is a psychopath, and Emily is his greatest obsession…

Lasko knows what he wants—what he deserves—and has the deadly skills and unending patience to get it. What he wants is Emily, and he is watching and waiting for the perfect opportunity to strike. That time is coming soon; he'll make sure of it.

A sense of unease settles on Emily, but is the danger real or imagined?

When Emily begins hearing noises and suspects someone has been in her house, Seth urges her to get a roommate. But after a search, she realizes a certain attractive cop would be the perfect choice, and Seth moves in.

Seth loves Emily, but fears his feelings might make it difficult to protect her.

In all areas of his life, Seth sees himself as a protector. He's determined to keep Emily safe, but he pushes the captivating blonde away in an attempt to stay objective. However, after her stalker makes a failed attempt to capture her, Seth can no longer deny his feelings.

With help from Seth's police colleagues, he and Emily set out to identify the person hunting her before it's too late. But is it worth the risk to bait the trap with what he wants most?
Check it out on Goodreads!
Darkness Follows [Darkness 02]
Emily McPhee is in the clutches of a monster…

Despite the protection of her boyfriend Seth Connors and his colleagues with the Orange Police Department, Emily is imprisoned in a basement by her psychopathic stalker Jimmy Lasko. His bizarre behavior adds to her terror, and a video link forces Seth to witness her captivity, leaving him feeling helpless as he, the OPD, and the FBI search for her.

Freedom isn't free, and safety is just an illusion…

Though Emily escapes the basement, the threat is far from eliminated. In fact, things she learned while being held by Lasko lead her to believe he isn't working alone. Lasko is still out there, determined to get her back, and crazier than ever. If he does have a partner, Emily has no idea where the threat might lie or who she can trust.

It's impossible to live a normal life when family ties become tangled.

Emily is deeply hurt when Seth is reminded that their relationship might endanger her further and he pulls away again. She's even more frustrated when her globe-trotting mother returns and is charming to everybody…except her own daughter.

When Emily meets Seth's family, she loves his mom and little sister, isn't sure what to make of his flirtatious brother—who is also a cop—and finds herself very uneasy around his father, who is a powerful attorney.

Sometimes things seem very clear…until you look more closely.
Check it out on Goodreads!
Darkness Falls [Darkness 03]
More than a year after her ordeal, Emily McPhee finally feels safe…

Emily's psychological scars are healing. Things are great between her and OPD Officer Seth Connors, and her biggest problem is the X-rated Halloween decorations her best friend Pete has placed all around her house.

If only it would stay that way…

Seth senses something isn't right, but he doesn't know where the danger is coming from…or why. He's sure Emily's neighbor, Travis McKay, is hiding something, and the man pays way too much attention to Emily.

To make things even more complicated, a new female officer appears to have her sights set on Seth, and fellow officer Alexander Avery has some sort of connection to a mysterious brothel employee. Seth has a feeling all these odd things are somehow connected—but he knows he's missing a huge piece of the puzzle.

Pull at a thread and everything unravels.

Emily's mother shows up with a surprise and a dirty plan to force her to sell the family home…and Seth's father is proven to be the deceitful monster he always believed him to be. Lasko's tainted past and twisted family ties turn out to be more complex than they ever imagined.

Every lie has a consequence, and Seth and Emily need the truth.

In order to escape with their lives and their love intact, they must answer one critical question…

Who is the real target in this deadly game?
Check it out on
Goodreads!
10.
Lies and Truth Duet Boxset by

Rachael Duncan

!
Marry for money.
This has been my motto. A motto that was drilled into my head at a young age. It's who I am. Who I'm expected to be. All of that changes when he walks into my life.
I can't lie.
I can't hide.
I can't deceive.
As my personal security guard, he sees through me and makes me second guess everything. I can't escape him or the way he makes me feel. He makes me smile. He makes me want more from life.
Can I sacrifice those who depend on me for my own happiness?
I'm Elizabeth Fitzgerald.
I'm a Senator's wife.
And I hate my life.

Keep it professional.
I had one job to do, and falling for Elizabeth Fitzgerald was not it. Being former Special Forces, I'm no stranger to fighting, but this is different. This is personal. The stakes feel much higher and the struggle to save her will be my most challenging mission yet.
But I have a secret. A secret that threatens to tear apart everything we've built.
You know me as Alex Matthews.
My mistake was getting involved with her, knowing what was on the line.
Their mistake was taking me away from her.
Check it out on
Goodreads!
9. Bastard by J.L. Perry!
My name is Carter Reynolds. I was born a bastard and I'll die a bastard. I learnt it at a young age, and nothing and nobody can change that. I'm on a one-way path of destruction, and God help anyone who gets in my way. I hate my life. Actually, I hate pretty much everything.

That's until I meet the kid next door. Indi-freakin'-ana. My dislike for her is instant. From the moment I lay eyes on her, she ignites something within me. She makes me feel things I thought I was incapable of feeling. I don't like it, not one bit. When she looks at me with her big, beautiful, haunting green eyes, it's like she can see into the depths of my soul. It freaks me the hell out. She's like sunshine and rainbows in my world of gloom and doom. I hate sunshine and rainbows.

••••

I'm Indiana Montgomery. My friends call me Indi. Despite losing my mum at the age of six, I have a wonderful life and great friends. My dad more than makes up for the fact that I only have one parent. I'm his little girl, the centre of his world. I adore him.

When Carter Reynolds moves in next door, my life takes a turn for the worse. He's gorgeous, sinfully hot, but that's where my compliments end. He seems hell-bent on making my life miserable. He acts tough, but when I look into his eyes I don't see it. I see hurt and pain. To me, he seems lost.

I should hate him for the way he treats me, but surprisingly I don't. If anything, I feel sorry for him. I want to help him find peace. Help him find the light that I know is buried somewhere within his darkness, but he won't have a bar of it.

He's warned me time and time again to stay away, but I can't. I'm drawn to him for some reason. He's always referring to himself as a bastard. That may be true, but to me, he's more like a beautifully, misunderstood bastard. Whether he likes it or not, I refuse to give up on him.
8. Lev [Shot Callers 01] by Belle Aurora!
From the moment Lev Leokov spots the young woman hiding behind her hair in the middle of the gentleman's club, he can't take his eyes off of her.
For the very first time in his life, he is affected. Having been told his entire life that he can't process or understand emotion, he considers it a big deal.

When Mina Harris gets caught red-handed with a wallet that isn't hers, she falls apart. She's tired, lonely and hasn't eaten in days.

Lev offers her an ultimatum... A nice warm bed, a hot meal and a job, or the cops.

Mina takes her chances with Lev.
After all, a person with nothing has nothing left to lose.
7. Vicious Cycle series by Katie Ashley!
Vicious Cycle [Vicious Cycle 01]
Deacon Malloy's life is dedicated to the Hell's Raiders motorcycle club. Tough, hard, and fast with his fists, he serves the group as sergeant at arms. But his devil-may-care approach to life is thrown for a loop when the five-year-old daughter he never knew existed lands on the club steps.

Alexandra Evans is devoted to all her students—but there's always been something about Willow Malloy that tugs at her heart. There's an aura of sadness about her, a girl in need of all the love Alexandra can give. When Willow stops coming to school, Alexandra's search leads to a clubhouse full of bikers…and a father hell-bent on keeping his daughter always within sight.

The moment Deacon sees Alexandra, he has to have her in his bed—and he's never met a woman yet who couldn't be persuaded. No matter how attracted she is to Deacon, Alexandra refuses to be just another conquest. But it's Deacon himself who could be seduced—into a brighter future for himself, his daughter, and the woman he's falling for against all odds.
Check it out on
Goodreads!
Redemption Road [Vicious Cycle 02]
Looking for a walk on the wild side, Annabel Percy, the daughter of a powerful politician, starts dating a biker she knows is completely wrong for her. But she finds herself living a nightmare when she's kidnapped and transported into a hell on earth she never could have imagined.

Born and bred into the Hells Raiders MC, Nathaniel "Reverend" Malloy lives and dies for his brothers. But when he becomes the unexpected savior of a rival club's captive, Rev makes it his personal mission to nurse Annabel back to health—and to shelter her from the nightmares that torment her.

Once Annabel heals, she's stunned to realize she is falling for the seductive man who saved her. Faced with their impossible attraction, can she accept the life he leads, or will Rev walk away from the only life he's ever known for the woman he was never supposed to love?
Check it out on Goodreads!
6.

Hero by Samantha Young
!
The emotional and unforgettable new romance from the New
York Times bestselling author of the On Dublin Street series.

Alexa Holland's father was her hero—until her shocking discovery that she and her mother weren't his only family. Ever since, Alexa has worked to turn her life in a different direction and forge her own identity outside of his terrible secrets,. But when she meets a man who's as damaged by her father's mistakes as she is, Alexa must help him.

Caine Carraway wants nothing to do with Alexa's efforts at redemption, but it's not so easy to push her away. Determined to make her hate him, he brings her to the edge of her patience and waits for her to walk away. But his actions only draw them together and, despite the odds, they begin an intense and explosive affair.

Only Caine knows he can never be the white knight that Alexa has always longed for. And when they're on the precipice of danger, he finds he'll do anything to protect either one of them from being hurt again…
5. Dirty English by

Ilsa Madden-Mills

!
A scarred fighter.
A girl with rules.
One night of unbridled passion.

There are three things you need to know about Elizabeth Bennett: she's smart as a whip, always in control, and lives by a set of carefully crafted rules. She's learned the hard way that people you love the most always hurt you in the end.

But then she meets Declan Blay, the new neighbor at her apartment complex.

A tattooed British street fighter, he's the campus bad boy she's supposed to avoid, but when he saves her from a frat party gone bad, all her rules about sex and love fly out the window.

She gives him one night of unbridled passion, but he longs for more.

With only a cardboard-thin wall separating their bedrooms, he dreams of possessing the vulnerable girl next door forever.

One night. Two damaged hearts. The passion of a lifetime.
4. The Road That Leads To Us [Us 01] by Micalea Smeltzer!
Things are about to get rocky for Dean Wentworth and Willow Wade.

Willow Wade is used to living in the spotlight, with her father a famous drummer in the band Willow Creek—her namesake—it's been a lot to live up to and oftentimes she doesn't feel she's enough. But there has always been one person she could turn to.

Dean Wentworth knows a thing or two about how crippling a name can be. His family is worth billions after all. But Dean's always been content to do his own thing. Play his guitar. Work on cars. And geek out to his various "nerdoms".

But when Willow turns up unexpectedly, he realizes maybe there is more in life he wants.

Her.

One trip will change their lives forever.
3. When I'm Gone and When You're Back by Abbi Glines
When I'm Gone [Rosemary Beach 11]
I had an urge to fix all her problems. Which was stupid. She was doing fine without me. But something about those big eyes…

Mase Colt-Manning has always preferred his humble life as a Texas rancher to his birthright as the son of a legendary rock star. In fact, he rarely visits his father's rarefied world in Rosemary Beach, especially if it means bunking at his vile half-sister Nan's house—until one visit leads to a chance encounter with a young, gorgeous house maid who awakens him with her off-key but spirited imitation of a country music star…

Reese Ellis finally has her freedom. After escaping a lifetime of abuse from her parents and classmates for an undiagnosed learning disorder, she seizes the opportunity to be a house maid to some of the richest families in Rosemary Beach. But her job is in jeopardy when she causes an accident at the home of her most important client, Nan Dillon. When a hot, half-naked stranger with a cowboy's swagger comes to her rescue, she's intrigued—then afraid once he shows his own interest. Reese has never met a trustworthy man in her life. Will Mase be any different?
When You're Back [Rosemary Beach 12]
The future is bright for Reese Ellis. She has Mase Colt-Manning, the man of her dreams, and a family she didn't know existed until her long-lost father arrived on her doorstep in Rosemary Beach. After growing up with a cruel mother and abusive stepfather, Reese is eager to get to know the caring and charming man who wants to be a part of her life. Everything is finally falling into place.

While Reese is visiting her new family in Chicago, Mase spends time with his "cousin," Aida, who has worshipped him since childhood. Though they're unrelated by blood, Mase and Aida have been raised to think of each other as family. But when Reese returns, she can tell something isn't quite right with Aida, who clearly resents Reese and excels at manipulative little games. And though Mase is unsuspecting, Reese knows Aida doesn't love him like a cousin should...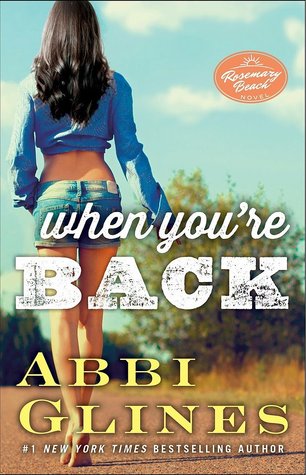 Check it out on
Goodreads!
2. Oblivion [Lux 1.5] by Jennifer L. Armentrout!
Experience the epic love story of OBSIDIAN as told by its hero, Daemon Black…

I knew the moment Katy Swartz moved in next door, there was going to be trouble. Lots of it.

And trouble's the last thing I need, since I'm not exactly from around here. My people arrived on Earth from Lux, a planet thirteen billion light years away. Plus, if there's one thing I know, it's that humans can't be trusted. We scare them. We can do things they only dream about, and honestly, we make them look weak as hell. 'Cuz they are.

But Kat is getting to me in ways no one else has, and I can't stop myself from wanting her—or wanting to use my powers to protect her. She makes me weak, and I'm the strongest of our kind, tasked with protecting us all. So this one simple girl…she can mean the end for us. Because the Luxen have an even bigger enemy—the Arum, and I need to stay on my game.

Falling for Katy—a human—won't just place her in danger. It could get us all killed, and that's one thing I'll never let happen...
Check it out on
Goodreads!
1. Every Last Breath [The Dark Elements 03] by Jennifer L. Armentrout!
Some loves will last 'til your dying breath

Every choice has consequences—but seventeen-year-old Layla faces tougher choices than most. Light or darkness. Wickedly sexy demon prince Roth, or Zayne, the gorgeous, protective Warden she never thought could be hers. Hardest of all, Layla has to decide which side of herself to trust.

Layla has a new problem, too. A Lilin—the deadliest of demons—has been unleashed, wreaking havoc on those around her…including her best friend. To keep Sam from a fate much, much worse than death, Layla must strike a deal with the enemy while saving her city—and her race—from destruction.

Torn between two worlds and two different boys, Layla has no certainties, least of all survival, especially when an old bargain comes back to haunt them all. But sometimes, when secrets are everywhere and the truth seems unknowable, you have to listen to your heart, pick a side—and then fight like hell…

So there you have it! My top 15 books of 2015! I hope you enjoyed reading some of these books as well! :)