Publication date: 15th January 2016
Paperback edition: -
Source: Kindle
Rating: 4.5 stars
Synopsis: Sebastian Bennett is a determined man. It's the secret behind the business empire he built from scratch. Under his rule, Bennett Enterprises dominates the jewelry industry. Despite being ruthless in his work, family comes first for him, and he'd do anything for his parents and eight siblings—even if they drive him crazy sometimes. . . like when they keep nagging him to get married already.

Sebastian doesn't believe in love, until he brings in external marketing consultant Ava to oversee the next collection launch. She's beautiful, funny, and just as stubborn as he is. Not only is he obsessed with her delicious curves, but he also finds himself willing to do anything to make her smile.
He's determined to have Ava, even if she's completely off limits.

Ava Lindt has one job to do at Bennett Enterprises: make the next collection launch unforgettable. Daydreaming about the hot CEO is definitely not on her to-do list. Neither is doing said CEO. The consultancy she works for has a strict policy—no fraternizing with clients. She won't risk her job. Besides, Ava knows better than to trust men with her heart.

But their sizzling chemistry spirals into a deep connection that takes both of them by surprise. Sebastian blows through her defenses one sweet kiss and sinful touch at a time. When Ava's time as a consultant in his company comes to an end, will Sebastian fight for the woman he loves or will he end up losing her?
I received an email from this author about reading an ARC of this book! I've read a few of this author's books and enjoyed them, so I obviously said yes! The synopsis also sounded like my kind of read, but this book didn't have a cover when I read it lol, so I imagined one in my head as I was reading! I'm pleased to say that the cover is similar in some aspect to what I imagined lol! I love it! I also loved this book and it actually exceeded my expectations lol! T
he
plot was also amazing! It had a lot of sexual tension in it and developed at the perfect pace! I read it in a few sittings and just loved it! I actually had a hard time putting it down too lol! There were also some really hot scenes too, and they were really, really hot! There also wasn't any action or suspense in this book, but there was plenty of romance and there was enough of it to make me forget that there wasn't any suspense or action lol! Overall, I just loved the plot and I wanted more of it lol!
The characters were also amazing and totally made the plot for me!
Sebastian was the main male character, and he was seriously hot! Sebastian was a guy that had helped his family go from rags to riches and I had a lot of respect for him! He also worked very hard and had made a successful career for himself and other members of his family! I also loved how he was with his family! I could easily see how much he loved all his family and how close they all were! I also loved how Sebastian was with his love interest, Ava! He would tease her and he enjoyed making her squirm! He was also very loving with her and he treated her like she was everything to him!
Ava was the main female character, and she was such a sweet and lovely character! She also stood up for herself and had worked very hard to get to where she was! I loved her and I connected with her all the way through this book! I also felt really sorry for Ava in this book as well though, because she was by herself and she didn't have any family around her! This made her feel really lonely and it made her feel even more lonely when she saw Sebastian with his big, loving family and siblings! Ava came a long way in this book though, and Sebastian made sure that she knew how special she was and that she had people around her that loved her!
I loved that this book was written from both Sebastian and Ava's point of views! It made the plot even better and helped me connect with the characters! It also made the romance more intense and expanded the plot! I can't wait to read the next book in this series too! I read that the author is going to write a book for each member of the Bennett siblings, which is really exciting! I really can't wait to read the next book and find out who the main character is going to be! I'm definitely going to read it once it releases! The ending of this book was left at the perfect place for Sebastian and Ava! As I said above, I love the cover for this book! It's really hot and the models on the front make a really good Sebastian and Ava! Big thank you to Layla and Inkslinger PR for an ARC of Your Irresistible Love!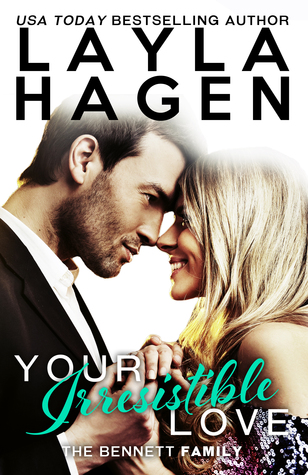 Check it out on Goodreads!
Buy your copy from Amazon, Barnes and Noble, Kobo or iBooks