Publication date: 11th July 2016
Paperback edition: -
Source: Kindle
Rating: 5 stars
Synopsis: A smokin' hot British player…
A jilted girl…
One night of mistaken identity…
Two weeks before her wedding, Remi Montague's fiancé drops her faster than a drunken sorority girl in stilettos. Armed with her best friend and a bottle of tequila, she hops a plane to London to drown her sorrows before fall semester begins at Whitman University.

She didn't plan on attending a masquerade party.

She sure didn't plan on waking up next to the British bad boy who broke her heart three years ago—the devastatingly handsome and naked Dax Blay. Furthermore, she has no clue how they acquired matching tattoos.

Once back at Whitman together, they endeavor to pretend they never had their night of unbridled passion in London.

But that's damn hard to do when you live in the same house…

One night. Two damaged hearts. The passion of a lifetime.

*A modern love story inspired by Romeo and Juliet*
I loved the first book in this series when I first read it! Like, LOVED it lol! I've read it about three more times since the first time I read it lol, so when I heard about this book, I knew I had to read it as soon as it released! I signed up for the Blog Tour in the hope of an ARC, so I was ecstatic when I received it and started it as soon as I did! I freaking loved this book! It was just as amazing as the first book and it only took me a few sittings to read because I couldn't put it down lol! The plot developed at the perfect pace and I loved the sexual tension in it between the two main characters! It leaked off the pages and it made me desperate to read on and see how it was going to progress!
There were quite a few seriously hot scenes too, and they added a lot to the plot! The plot also had some twist and turns in it, and I didn't see a particular twist near the end coming! It really surprised me and added a lot to the development of the plot! Overall, I just loved the plot and it was really hot!
The characters were also amazing and made this book even better!
Remi was the main female character, and she was someone who had been through a lot! I wasn't expecting her secret to come out and be what it was, but my heart completely went out to her when it did! It showed Remi's strength and how far she had come by herself! Remi also stood up to her love interest and the two of them were so good together! It's a shame that it took Remi so long to realise it lol! Remi was also very funny at times and she had the worst luck and was pretty clumsy lol! I loved the way she took care of her brother too! He meant the world to her and it was easy to see!
Dax was the main male character and love interest of Remi!
Dax was a secondary character in the first book in the series, so I was really happy that he got his own book! I loved Dax in this book! Yes, he was a bit of an ass and he sometimes overreacted, but he was also seriously hot and said the right thing at the right time! Well... most of the time lol! I just loved Dax and it was also easy to see how deep his feelings were for Remi! He really, really loved her, but he let her go because he didn't think that he deserved her! This told me a lot about Dax! Dax was also protective of Remi and he always made sure she was safe and taken care of! I just loved him! I also
loved that this book was written from both Remi and Dax's point of views! It developed the plot more and allowed for more things to happen in it! It also helped me connect more with both characters too! I also know that this book is going to be the only book for these characters, but I really hope that the author writes more books for secondary characters! I love this series a lot, so I would love her to write more books! I would definitely be first in line to read them lol! The cover for this book is seriously hot! I loved it as soon as I saw it and I love how well it suits the cover for the first book! It suits it perfectly! Big thank you to Ilsa for an ARC of Filthy English and to TRSOR Promotions for having me on the Blog Tour!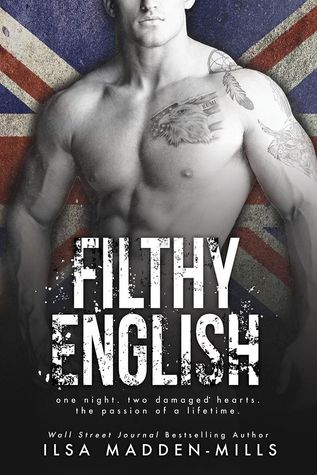 Check it out on Goodreads!
Buy your copy from Amazon
Author bio:
New York Times and USA Today best-selling author Ilsa Madden-Mills writes about strong heroines and sexy alpha males that sometimes you just want to slap.
She's addicted to all things fantasy, including unicorns and sword-wielding heroes in books. Other fascinations include frothy coffee beverages, dark chocolate, Instagram, Ian Somerhalder (seriously hot), astronomy (she's a Gemini), Sephora make-up, and tattoos.
She has a degree in English and a Master's in Education.
When she's not pecking away on her computer, she shops for cool magnets, paints old furniture, and eats her weight in sushi.