Publication date: 5th October 2016
Paperback edition: -
Source: Kindle
Synopsis: Wild, reckless, and fast.

That's how I raced until a fatal accident on the track ruined my riding career. I had no choice but to leave that life behind; at least, until now. My name is Logan Chandler, one of the best FBI agents in the country. When an old friend calls for help and winds up dead, I take matters into my own hands. In order to do that, I have to go back to my past, back to the racetrack and to the one girl I never thought I'd see again . . . Kassidy Bennett.

She's the key to solving it all, but bringing her in could put her in grave danger. Unfortunately, I didn't realize she was already there. To save her, I have to put everything on the line. It's a race against time, a race to the death, and only one will make it to the end.
I've read all this author's other contemporary books and I'm always excited about a new release from her! I was really excited about this book because this series is very suspenseful and has amazing characters, so I couldn't wait to read more books from it! The synopsis also sounded amazing and the cover is hot! I started this book as soon as I received my ARC and couldn't put it down until I had finished it! It did only take me a few sittings, but it had me hooked from the first page! I loved the sexual tension between the two main characters and I loved that there were some seriously hot scenes! I was expecting some really hot ones lol! The plot was also amazing! There was plenty of suspense and a bit of action in it! I love romance, suspense and action in the plot of any book, and this author tends to have all three in her books, so I was really happy that this book had all three in it too!
The characters were also amazing and made this book even better! Logan was the main male character, and he had been through a lot before the events of this book took place! My heart went out to him for what he had been through, but Logan was resilient and he fought back and didn't let what happened to him hold him back from what he wanted to do! This made me have a lot of respect for him and love him that bit more!
I also loved the way Logan was with his love interest! It was easy to see that he still had deep feelings for her and I loved how protective he was of her too! He was also seriously hot and was very easy for me to connect with!
Kassidy was the main
female character and love interest of Logan! Kassidy was a pretty stubborn character when it came to Logan, but I could completely understand why! The two of them had a past, and it had left a big hole in their relationship, so I could understand why Kassidy had trouble letting Logan in at the beginning of this book! Like Logan, Kassidy was very easy for me to connect with and I loved her attitude and personality! She was brave and very smart! Kassidy also had a bit of a vixen side to her too! I wasn't quite expecting this lol, but it added to her character! I
loved that this book was written from both Logan and Kassidy's point of views! I was hoping that it was going to be as the other books in the series are co-written, so I'm really glad it was! It helped me connect more with both characters and allowed for more things to happen in the plot! I can also completely understand why this book is a standalone! The ending was left at the perfect place! I also can't wait to read the next book in this series! I wasn't sure if there was going to be another book, but I'm really happy that there is going to be! I can't wait to read it once it releases! The cover for this book also suits it perfectly! I love it and it's really hot! It also suits the other covers in the series too, which I love! Big thank you to L.P. Dover for an ARC of High-Sided and to Love Affair With Fiction for having me on the Blog Tour!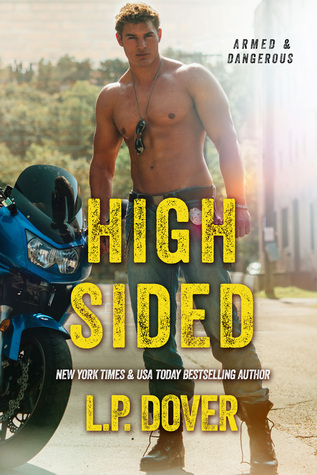 Author bio:

New York Times and USA Today Bestselling author, L.P. Dover, is a southern belle residing in North Carolina along with her husband and two beautiful girls. Before she even began her literary journey she worked in Periodontics enjoying the wonderment of dental surgeries.

Not only does she love to write, but she loves to play tennis, go on mountain hikes, white water rafting, and you can't forget the passion for singing. Her two number one fans expect a concert each and every night before bedtime and those songs usually consist of Christmas carols.

Aside from being a wife and mother, L.P. Dover has written over twenty novels including her Forever Fae series, the Second Chances series, the Gloves Off series, the Armed & Dangerous series, the Royal Shifters series, and her standalone novel, Love, Lies, and Deception. Her favorite genre to read is romantic suspense and she also loves writing it. However, if she had to choose a setting to live in it would have to be with her faeries in the Land of the Fae.
L.P. Dover is represented by Marisa Corvisiero of Corvisiero Literary Agency.
Giveaway!