Excerpt!
Oliver comes into the picture just as the music starts. A dark, deep, electronic thrum of organ, and bass, and slow tech synth beats. The vocals claim they want more. And I can relate.
"I want more," Younger Oliver sings to Younger Katya in his low voice. He lowers his naked body over hers. "More… gimme more… gimme more."
Then Older Oliver is walking down the stairs, hunger—nothing but complete and utter hunger—in his expression as he looks at Older Me.
"I want more," he says, coming up to the stool. He lifts both of my legs, placing my ankles on his shoulders. He grips my white schoolgirl blouse and rips it open. Buttons fly off as he exposes me with a small grunt that sounds like lust. And then he pulls my panties down to my knees and presses his body into mine.
Fingertips on his zipper, Pulling him out. It takes me one whole slow-motion second to realize I'm the one doing that.
His hard cock bumps up against my wet pussy and he grinds me like that. His breath is hot like cinnamon when he kisses me. "More… gimme more… gimme more," he sings into my mouth. "I'm gonna take more, Katya."
I have no complaints. I don't even bother wasting time forming words to let him know.
On the wall, Younger Katya is moaning as Younger Oliver slips his dick inside her pussy.
In front of me, this Oliver does the same thing.
The music is hypnotic and the sex going on all around me is like a drug. An aphrodisiac that makes liquid pool between my legs. Surround his cock as he fucks me slowly. Makes my whole body yearn…
More… gimme more… gimme more.
"Oliver," Younger Me is saying in the movie on the wall. "Oliver," Older Me is panting in real time.
"I love you," Younger Oliver says in the movie. "I fucking love you," Older Oliver is saying as he bites my lip hard enough to make it bleed.
Filled with filthy erotic grunts and the slapping of skin on skin as he pounds me to the rhythm of our past.
We are animals. We fuck like animals. Primal and intrinsic and primitive.
But it is nothing if not love.
We come together this time.
Hot, and so sweaty our bodies want to stick together. And then we kiss. He kisses me like he is thirsty and I am cool, clear water.
More… gimme more… gimme more.
Oliver Shrike thinks ahead. He likes to make lists and tick off boxes. He plans, he plots, and he's got everything under control.

Until one day he sees my videos on his dating site. The private erotic videos I make just for him.

When I'm looking at the camera I can practically see his face. Hear the internal arguments. Feel his desire.

Because I'm that kind of woman.

You should delete my videos, Oliver Shrike. It's your job to keep that dating site on the up and up.

But you don't, do you?

You watch them. You get off to them. You crave them.

Every week I make a new one with you in mind. I've got you addicted to my body, my moans, my secrets.

I've hooked you now, Mr. Match. You've been in control for way too long and this is where it ends.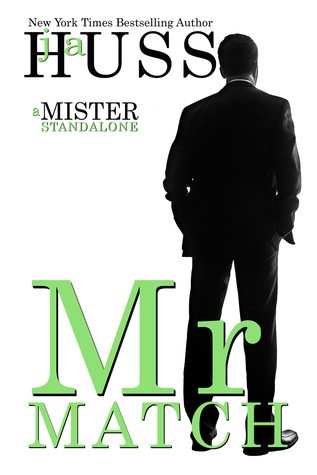 Author bio:

JA Huss is the USA Today bestselling author of more than twenty romances. She likes stories about family, loyalty, and extraordinary characters who struggle with basic human emotions while dealing with bigger than life problems. JA loves writing heroes who make you swoon, heroines who makes you jealous, and the perfect Happily Ever After ending.

You can chat with her on Facebook (www.facebook.com/AuthorJAHuss), Twitter (@jahuss), and her blog, New Adult Addiction (www.jahuss.com).

If you're interested in getting your hands on an advanced release copy of her upcoming books, sneak peek teasers, or information on her upcoming personal appearances, you can join her newsletter list (http://eepurl.com/JVhAr) and get those details delivered right to your inbox.
Giveaway!