Excerpt!
"Grace, honey, I hope you haven't been waiting long."
Grace opened her mouth to respond, but the woman cut her off, turning to Jeremy.
"And who's your tall drink of ginger ale? I thought you were off the man sauce for now. Or is that episode over? Because if it's not, please tell me you're keeping him around for when it is. And— Oh! Did you try the Pink Bullet we talked about last time, or are you still relying on the showerhead?"
Jeremy coughed while Grace maintained complete and utter composure despite the woman who must be her Realtor discussing, on the sidewalk, whether or not Grace masturbated.
"What?" the woman added. "Life is too short for mental filters. Say what you want or keep your mouth shut. You keep things bottled up inside, and you're liable to explode." She winked. "Yet another reason for the Pink Bullet."
He raised a brow, intrigued by what his new friend might say in response.
Grace simply let out a long breath. "Lisa," she said, nodding toward him. "This is my friend, Jeremy. Jeremy, Lisa's the Realtor who, thankfully, has not leased this place out to anyone else, yet. We've known each other as long as I've been eyeing it, so she's kind of privy to the whole cleanse situation."
Lisa crossed her arms and gave Jeremy the once-over. "God, you two would make fantastic-looking children." She shook her head. "What a waste. And no, for all the condos I sell, I cannot unload this property. It's like it's waiting for our Gracie here."
He grinned at the sound of the nickname. He bet other people got to call her that, people who knew the real her—all of her. People with whom she spoke freely about her sex life—or lack thereof—and whether or not she pleasured herself.
His dick twitched inside his jeans. Traitor. But how could he blame it? He was conjuring images of Grace touching herself in places that were off-limits to the entirety of the male species, and it was enough to drive him mad.
Friends, he reminded himself, then tried to drum up an antidote.
Nana bringing him cookies when he had the chicken pox as a child.
Nope. That just made him realize he was hungry for something other than kale and that he was still horny.
His ninth-grade English teacher, Mrs. Field. Shit. No. Wrong choice. She was actually kind of hot.
Nurse Elsa, the one who always gave him the flu shot at his old pediatrician's office. She had that mole above her lip with that one lone hair growing out of it…Yes!
He glanced down at his pants, feeling himself soften.
At ease, soldier.
I like to think of myself as a man of pleasure…

I enjoy a good pint of ale, being in the arms of a beautiful woman, and living by my own rules. The only thing I try to avoid? Commitment. And I've got a three-year success rate to prove it.

I wasn't planning on Grace—the beautiful, funny, totally off-limits massage therapist who keeps popping up in my life. She's on a six-month mission to rid her life of toxins. No alcohol. No red meat. And, yeah, no men. I'm talking full-on man cleanse.

I know I should walk away, but I can't…and the only way to keep her in my life is to live by her rules. I'll need to prove to a woman who's lost all trust in men that I'm worthy of her love. And do it all without so much as a single kiss.

The only problem? If I win, I'll lose the one thing I swore I'd never give up. My heart.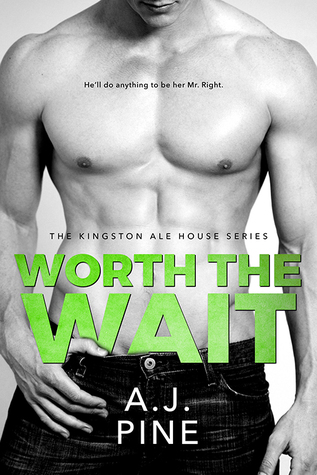 AJ Pine writes stories to break readers' hearts, but don't worry—she'll mend them with a happily ever after. As an English teacher and a librarian, AJ has always surrounded herself with books. All her favorites have one big commonality–romance. Naturally, her books have the same. When she's not writing, she's of course reading. Then there's online shopping (everything from groceries to shoes) and, of course, a tiny bit of TV where she nourishes her undying love of vampires and superheroes. And in the midst of all of this, you'll also find her hanging with her family in the Chicago burbs.
Newsletter
Giveaway!
a Rafflecopter giveaway