Publication date: 16th September 2014
Paperback edition: -
Source: Kindle
Rating: 5 stars
Synopsis: A companion novel to "Unbreakable" & "Undone" and is the final book in the Unbreakable series -- This is Lindsay and Matt's story.
Lindsay Christianson seemingly has it all—the perfect career, the perfect boyfriend, and the best-laid plans for a perfect life—until one phone call changes everything.

With a moments notice, Lindsay must choose between her perfect life and her professional dreams. The choice momentarily seems clear when the opportunity to propel her career abruptly sends her across the country, leaving everything she loves behind in North Carolina.

Navigating a new city with a broken heart and a job where her colleagues will do anything to sabotage her success, the pressure quickly becomes too great. When old habits resurface, Lindsay finds herself chasing demons she thought were long since buried.

With pain and destruction left in her wake, will Lindsay find a way to erase the damage she's done, or will her sins remain unforgiven?
I couldn't wait to read this book! I just loved the other books in the series, and although I knew this book was going to be about other characters in the series, I still couldn't wait to read it! This book really was amazing! There was so much in it and the characters went on a whirlwind journey, both separately and together! The plot of this book dealt with love, forgiveness and redemption! There was also drug use and anorexia in the plot too, which played a pretty big part! The plot just had so much light in it with the main characters relationship, but there were really dark phases too! It also progressed at the perfect pace and I zoomed through this book so fast! I would have read it in one sitting if I hadn't forced myself to leave the last 20% until I had started writing my review lol! I just couldn't get enough of it!
The characters were amazing! Lindsay was the main female character and she went through so much in this book! My heart just went out to her! I was silently begging Lindsay in my head to stay herself and not listen to any of the people being nasty to her, but Lindsay bent under the pressure and she turned to drugs, which lead to her becoming anorexic! She came such a long way in this book though and she grew so much! I just loved her! Lindsay also appeared in another book in this series, so I knew who she was before reading this book, but she was a secondary character in the other book!
Matt was the main male character and love interest of Lindsay! Matt was seriously hot, but I felt really sorry for him in this book! I saw him deliriously happy at the beginning, but then it sort of all came crashing down, which made Matt sort of kept himself to himself! He had such a hard time dealing with losing the woman he loved too! Matt came a long way in this book too though! He experienced life without the woman he loved, which showed him how strong his feelings for her were! I have to say that I loved that Matt didn't rush back into a relationship with Lindsay and that they gradually grew back into a relationship! It definitely worked out better for them! Matt also appeared in another book in this series, but I loved getting to read his story!
I loved that this book was written from both Lindsay and Matt's point of views! I wasn't sure if it was going to be, but I'm really happy it was! It made the plot even better and it really helped me connect even more with the two characters! I also loved that characters from the other books in the series made appearances in this book! It was amazing to see how their relationships had progressed! This book is last book in this series, which makes me really sad! I just loved reading this series so much! The ending of this book was beautiful though and summed up the Matt and Lindsay's story perfectly! I can't wait to read more from this author too!
The cover for this book is stunning! I fell in love with it as soon as I saw it and I love how well it suits the other covers in the series! Big thank you to Rebecca for an ARC of Unforgiven and to Shh Moms Reading for having me on the Release Week Event!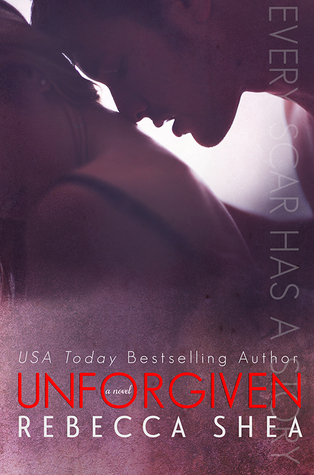 Author bio:

Rebecca Shea is the USA Today Bestselling author of Unbreakable and Undone. She lives in Phoenix, Arizona with her family and her beagle, Miles. From the time Rebecca could read she has had a passion for books. Rebecca spends her days working full-time and her nights writing, bringing stories to life. Born and raised in Minnesota, Rebecca moved to Arizona in 1999 to escape the bitter winters. When not working or writing, she can be found on the sidelines of her sons football games, or watching her daughter at ballet class. Rebecca is fueled by insane amounts of coffee, margaritas, Laffy Taffy (except the banana ones), and happily ever afters.