Excerpt!
"Are you," I caught my breath, "involved in criminal activities?" I sounded very quiet. Not myself.
I felt a burn in my nose, and my eyes grew blurry. He blew air out of his nose and stepped closer, but I stepped back, needing space to stay the course.
"Don't what?" he asked, tenderly.
I flashed on him again, surprised. His face had grown lighter, calmer . . . maybe as he took in my sadness. He had uncrossed his arms, and tilted his head to the side.
No. I knew what he was trying to do.
"Seduce the truth away," I answered, remembering how he had reassured me in Port Douglas with physical affection.
He flinched, and, after a moment, glanced away.
Imagine leaving behind all that you know and starting over halfway around the world. Imagine you've got no gut instinct to rely on, no natural-born ability to read people or sort out lies from truth. Imagine your heart goes haywire every time you stare into a certain pair of deeply mesmerizing dark eyes. Now you're in Charlie Sykes' (highly sensible) shoes . . .

Charlie Sykes takes everything and everyone at face value, and believes life would be a lot easier if everyone else did, too. Jace Knight, international Aussie hotelier and purported playboy, has never met anyone like the absurdly literal and obliviously beautiful American who applies to his personal assistant position.

The trouble is, how do you seduce a woman whose definition of flirting comes straight out of the Merriam-Webster Dictionary? That, and he's not the only one after Charlie. Seems Mr. Knight may not be a reformed criminal after all.

Charlie soon finds herself caught up in a whirlwind of dangerous international espionage that takes her from the hip streets of Sydney to the majestic Great Barrier Reef and the wild, desolate outback. A terrible trap's being laid, but how will Charlie protect herself and prevent a devastating betrayal when she can't even sort out what her heart's telling her?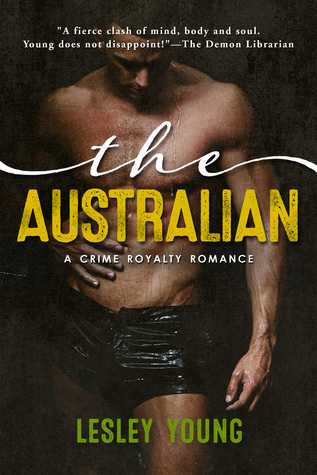 Check it out on
Goodreads!
Buy your copy from Amazon
Lesley Young is a genre-defying author of unforgettable heroines who experience thrilling life- and love-altering journeys. Her debut novel was Sky's End; her most recent stand-alone series, Crime Royalty Romance, includes The Frenchman and The Australian. She loves to hear from readers.
Giveaway!